What is the Query Store?
The SQL Server Query Store is a feature introduced in SQL Server 2016. It provides you with insight on query plan choice and performance against a specific database.
Why should I enable it?
This information helps in identifying performance issues even after SQL Server restart or upgrade. All data that SQL Server Query Store capture are stored on disk.
How do I turn on a query store?
To enable it using SQL Server Management Studio (SSMS):
Right-click a database, and then click Properties.
In the Database Properties dialog box, select the Query Store
In the Operation Mode (Requested) box, select Read Write.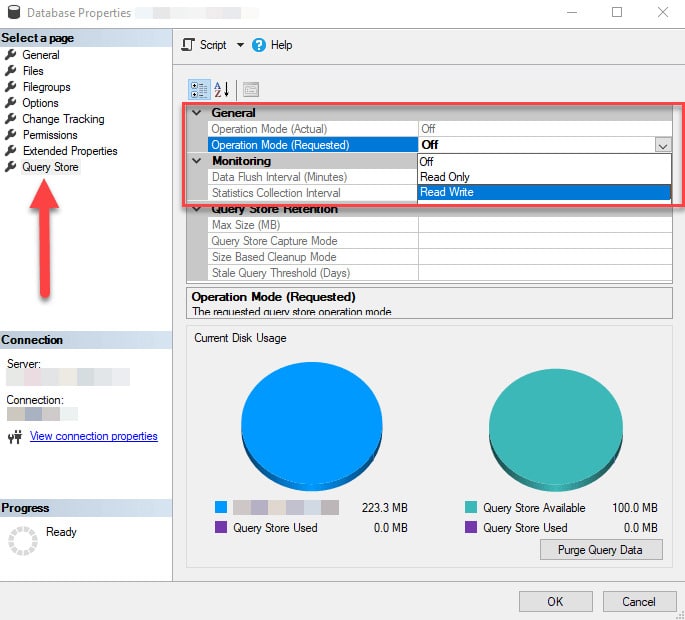 Notes: SQL Server Query Store requires at least version 16 of Management Studio.
Best practices indicate that you should set QUERY_CAPTURE_MODE to AUTO and MAX_STORAGE_SIZE_MB to 1GB to thought 10GB at the absolute max (Adjust CLEANUP_POLICY to keep less data, depending on your workload).
Also, it's a good idea to enable the trace flags 7752 and 7745.
Alternatively, you can enable it using the ALTER DATABASE statement (TSQL).
Change the [XXXX] to your database name:
ALTER

 

DATABASE

 

[

XXXX

]

 


SET

 QUERY_STORE 

=

 

ON

   
    

(

  
      OPERATION_MODE 

=

 

READ_WRITE

 

,


      MAX_STORAGE_SIZE_MB 

=

 

1024

,


      QUERY_CAPTURE_MODE 

=

 

AUTO


    

)

;
More information:
Microsoft – Best practice with the query store
Microsoft – Monitoring performance by using the query store